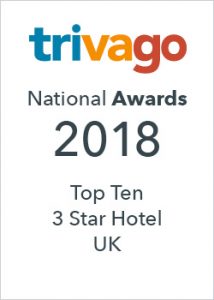 We have been voted #5 in the top ten 3-star hotels in the whole of the UK by Trivago
The Trivago Awards give hoteliers the chance to receive recognition for their hard work and dedication to providing exemplary guest experiences, and to highlight and publicise this achievement to a world of travellers.
Here at A Park View Hotel, we are very proud to be recognised for this Trivago award as we have gone from strength to strength to where we are today as an independent Hotel in the heart of Wolverhampton. We would like to thank our loyal staff and customers who have continued to support and drive the business forward to achieving our goals and winning this award. We have maintained our high customer service levels and have witnessed an encouraging growth to our business.
We are even more committed to exceeding the expectations of all our customers and will strive to make ourselves different and continually get better to make us the best.
Thank you again to all our customers for the support and watch this space to find out how will be expanding A Park View Hotel & Hamiltons Restaurant in the near future.
Read all about the Award here http://hotelmanager-blog.trivago.com/trivago-awards-2018-top-rated-hotelsuk/