Exclusive Black Friday Offer, for this Friday only. Enjoy a Lobster Tail and a side for £15 or a Lobster Tail, side and a 175ml wine for £20. This is a pre-ordered offer, book by Friday 24th November 2pm for an offer not to be missed!
Lobster Nights at Hamiltons
Join us at Hamiltons Restaurant for our Lobster Specials, on the last Friday of every month. You can create the perfect night by choosing one of our luxurious lobster dishes on a pre-order base only.
Choose from
Whole Lobster*
with three side dishes
Lobster Thermidor for Two
Lobster Tail**
garlic & herb butter sauce, served as a side to your main course
How to Pre-order
Call us to pre-order your Whole Lobster for the last Friday of the month. Orders must be received by the last Monday of the month. We will obtain a market price for lobster and we will advise customers. (approx. £60 – £90 *approx. weight 1 – 1.5 lb)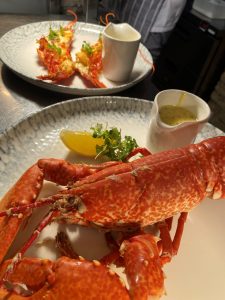 Lobster Tails require 24 hours' notice, £20 deposit on reservation. **(approx. weight 3.5oz)
For table reservations and further enquiries call us on 01902 567628.
We always recommend a white wine to accompany lobster. Our top pick would be our New French Omarine Seapearl Picpoul. However, if you would like Champagne, give us a call to guarantee a nice chilled bottle on arrival.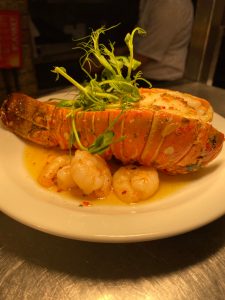 Our supplier works famously with Brixham Fish Market, Devon, to ensure we receive the freshest selection of native lobster during summer months. During winter months lobster is imported from North America guaranteeing ultimate freshness.