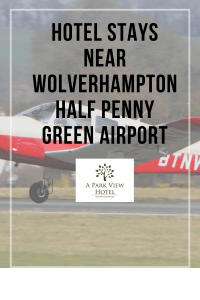 Wolverhampton Halfpenny Green Airport (ICAO: EGBO), formerly Halfpenny Green Airport and Wolverhampton Business Airport, locally Bobbington Airport, is a small, 400-acre airport situated near the village of Bobbington, South Staffordshire. The airport is situated 8 mi (13 km) south-west of Wolverhampton, the city which it serves.
Visitors often need to stay in a Hotel near to Wolverhampton Halfpenny Green Airport and A Park View Hotel suits perfectly. Just a 20 minute drive from the hotel.
Offering small luxury accommodation, restaurant and excellent fresh breakfast facilities with scenic views of Wolverhampton West Park, B&B rates starting from £85 p/n
A popular choice hotel when learning to fly. Guests are often attending helicopter, microlight, and for fixed fixed wing training schools.
Offering a personal and bespoke service and secure parking.
We operate and follow safe COVID-19 guidelines to give guests the peace of mind that they do not need to worry about cleanliness and social distance facilities, we have provided these here.
If you are visiting any of the resident businesses at Wolverhampton Half Penny Green Airport and need hotel accommodation near to the Airport. Give us a call on 01902 567628 or
click www.aparkviewhotel.co.uk for more information. Contact us Direct for preferred Hotel rates.
As recommended on
airporthotelsguides.com and www.tradefairdates.com
Are you looking flying lessons in the Wolverhampton area and looking for a fantastic hotel stay to compliment your stay. We have partnered up with Flying aviation schools based at Wolverhampton Half Penny Green to provide guests with highly reviewed hotel accommodation. Call us for direct rates on 01902 567628
Where to eat near half penny green airport? – Our very own Hamiltons Restaurant is open to the public and offers a modern British Dine Menu . Ideal for business stays and meetings or just to sit down relax and unwind with a freshly prepared meal. Take a browse at our A la Carte Menus