Try Hamiltons Restaurant Pre-Match or After-Match
It's the closest place to eat who offers Pre-Match Day Food. An ideal place for home and away fans, couples, families and football fanatics.
We know how football kick off times can vary throughout the season. So, we have tailored our offers to cover. Come in for a Signature Hamiltons Burger and Beer for just £15 or a 2 course meal for £22. Come after the match for a quick tea or Coffee. We recommend booking in advance as it can get quite busy. Free parking with all pre-booked reservations.
Can't find a close parking space next to the Molineux, with just a 10 minute walk from the stadium, park your vehicle in our car park for just £5.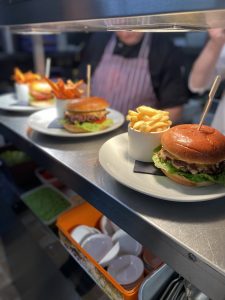 Making the most of your day at Molineux Stadium – Football visitor's hotel guide
Planning your Hotel stay near Wolverhampton Molineux Football Stadium and ready to soak up the pre-match atmosphere.
Kick off the football season by booking your next room at A Park View Hotel, the nearest Hotel to Molineux Football Stadium. No longer than a 10 minute walk to the stadium. A fantastic hotel for both home and away fans.
Book your Hotel Stay – Room Rates from £105.00 per Night B&B
Book direct on 01902 567628 to receive fantastic rates, use our online bookings calendar to check availability.
Make the most of your day, park up in our large secure parking and take an Early Check-in at A Park View Hotel. You won't be short of things to do.
Wolverhampton is full of fantastic pubs, restaurants, shopping destinations and with West Park right on our doorstep, you have the perfect excuse for a scenic walk and quick look around town. Should you need to get to the stadium to visit the club shop, museum or ticket office then we're only a short walk away.
Fans are advised to arrive early, to avoid any possible road closures around the Stadium  (90 minutes before kick off). It's the perfect excuse to book yourselves into Hamiltons Restaurant to grab a bite before the game.